HERE, WE TELL OUR OWN STORIES
We take pride in writing and telling stories featuring Muslim characters, and developing exceptional content that is true to the lived Muslim experience!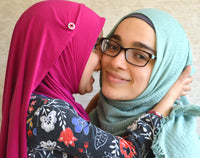 Our Story
Since 2015, our mission has been to publish bright, fun, and engaging children's books to add to your home and school libraries. All our books feature Muslim characters and protagonists, because we believe representation matters! Diversity in children's literature contributes to a solid character education – and seeing someone who looks like you in a storybook is exciting!
So pull up a chair, enjoy our books, thumb through our articles, and join our fun-filled adventure!
shop Our Collection
What Our readers are saying:
Beautifully written and illustrated books! Ruqaya's Bookshelf has filled a huge void in our community by bringing books with moral values that children actually enjoy reading and listening to.

Hina Salim
My kids and I just adore all the books we have purchased from Ruqaya's Bookshelf. "Bismillah Soup" is probably our favorite.

Angela Umm Aisha
A Temporary Gift taught me that I am allowed to grieve, to doubt and to fall. That it's okay to not know what lies ahead, to take one step at a time. That to move on does not mean to forget, rather it means complete submission and acceptance.

Sabrina Salmeen
My daughters love their books. These are the sort of stories that we wish we had read when we were younger. My girls can't pick their favourite but I think it's "Nusaiba and the 5th Grade Bullies" and "Yasmine's Belly Button." These are books that I've recommended to public/school libraries as well.

Sumaiya Saleh
My children and I fell in love with the books immediately!

Sara Amanullah
Having books that represent myself, my children and my students is critical to their confidence levels. The simple exposure of characters in hijab, when reading "Nusaiba and the 5th Grade Bullies" has opened my students' eyes to the fact that there are more colors, nationalities, cultures, and religions out there to explore. I love that "Bismillah Soup" has a black main character who is kind and thoughtful. Can't wait to see what's to come!

First Grade Teacher